Andrew Nkurunungi is someone I have known for a very long time. We studied together in primary and played together on our school football team. Ours was a rugged outfit and we never won any games that I can recall but it was our team, and we were proud of it. Some of us on the team were there just so we could make 11 players but others like Andrew were there because they really loved to play the game.
He continued playing soccer after primary and is still playing soccer to-date. I find alot of inspiration in the fact that he has continued to pursue something he truly loves doing and I for one look forward to the day he starts playing in the big leagues. When that day comes, I will walk up to the prettiest girl in the bar, point to the screen where Andrew will be dribbling some hapless defender in HD and tell her, "Me and that guy played on the same team. I actually used to be better than him but they banned me from playing soccer because I used to make everyone else look bad and I was messing up their self esteem." Then she will give me her number and tell me to call her when I am leaving so we can go together.
Anyway, as I daydream,  read along and I hope you pick a thing or two about following your dreams from this interview we had with the man himself.
Andrew, how about you introduce yourself to the readers.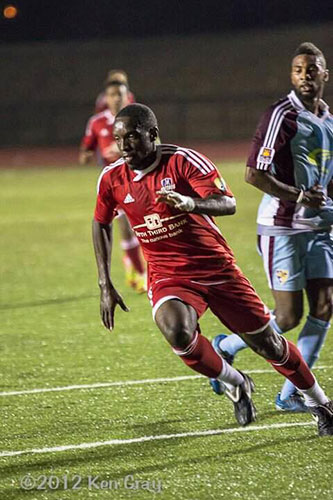 Yes, I am Andrew Nkurunungi from Kabale- Uganda currently pursuing a Bachelor's Degree in Computer Science at Alabama A&M University, Huntsville ALABAMA, USA.
My graduation is set for May 3rd and I will off course be expecting a lot of family and friends to be part of the ceremony.
When did you start playing football in the US and how did you manage to make that happen?
I moved to the US in August of 2009 on a soccer Scholarship to continue my education at Alabama A&M University. It took me about a year a half to get cleared to play due to the heavy National Collegiate Athletic Association (NCAA) rule about professionalism. I have heard rumors about me going to Canada for surgery but my role here is primarily Education and Soccer.
Before that, where were you playing from?
I played for SC Villa, the original. Kakungulu Cup winners 2009.
Are you a full-time footballer or is it just a pastime? What else do you get up to apart from playing football?
In the US, with American Football and Basketball being the most dominant sport, it's always difficult to have soccer for full-time employment. I try to play as much soccer as I can throughout the year for Rocket City United and Nashville Metros last year.
So I go to school too and I work as a Technology Aide at Alabama Extension Cooperative. I also program, play tennis and golf to pass time.
What special qualities about yourself do you think make you stand out from other footballers?
Speed, Power, and Precision. All the coaches I have worked with have appreciated and helped me improve these areas. I will take this opportunity to thank Coach Katelegga Muddu from Horizon FC, Coach Golola and Wasswa – St.Mary's Kitende, Coach Charlse Ayeko – Makerere University, Coaches Asuman Lubowa, Sula Kato, Kilya Ibrahim, Nkata Paul and Fred 'Giringi' Lukwago (RIP) from SC Villa, Coach Salah Yousif – Alabama A&M University, Coach Jerry with Rocket City United, Coach Desmond Armstrong and Brent Goulet with the Nashville Metros. Those are the gentle that have made me stand out from other footballers. Special thanks to you all gentlemen.
Another quality I must say I am proud to have is discipline. However good you might be at anything, the element of discipline will always make you or break you depending what side you fall. Pele, Maradona, Zidane, Ronaldo, Messi , Roger Federer , Selena, Pacquia, they will all tell you that power is nothing without control.
Football in the US is not really as well developed as that in Europe or South America.  How come you chose to play from there?
In life, we all stepping stones to greater heights. I chose to kill two birds with one stone. As a lad very interested in technology, the offer to complete my degree in the US was unrejectable. I was able to come here, play soccer for my college and visit some of the places that harbor some of the world's greatest technology. Places like the NASA- Marshal Space Flight Center, where I was able to touch Saturn V's capsule that actually went to the moon. To me as a Computer Science student, that's a milestone. Then I also visited the U. S. Army Aviation and Missile Research Development and Engineering Center (AMRDEC).
I get to meet soccer legends like Desmond Armstrong, Brent Goulet and play with them to and make the connections.
Do you intend to play in the US forever or are you hoping to move to play elsewhere anytime soon?
I am available to move anywhere that an opportunity comes up. Coach Brent has been able to organize some tryouts in Germany. So when the right time comes, I will give it a try.
What accolades have you managed to win during your time as a professional footballer?
Select XI All Africa Inter University Games soccer team Champions 2009, Kakungulu Cup 2009, MVP Rocket City United, MVP Nashville Metros.
What is your most memorable moment during your career?
It's been a lot of memorable moments and I am sure more are yet to come, but for now, my brace in the Kakungulu Cup 2-0 win against Bunamwaya still stands out.
Who is do you aspire to be like in the footballing world?
Didier Drogba. His humble rise to greatness thorough hard work is so inspiring.
Football in Uganda does not seem to be showing signs of improvement. What qualities of the American football scene do you think can be implemented here to help improve the quality of football here, both on the field and in the organization?
First of all, we MUST have one league, we must come together, and we must be able to hand over power in a timely manner. That is all I will say about our administration.
The problem of soccer in Uganda will have to be tackled from the grass roots. We need support from parents and teachers. Try to realize the potential in a child, support the child and their decisions because it's never too late to go back and finish your education after you have made it to professional. Special thanks to Ivan Kakembo founder of Uganda Youth Soccer Academy and Edgar Watsons Youth Programme. They will agree with me about "the child".
More government involvement, NGO support and Charity work will also help the game of soccer in Uganda.
From the last game I followed up on, vs LIBERIA, we are very narrow as far as experience is concerned. Which players would you select for an away game in West Africa? What can we do to keep the same team for as long as we can? Our big guns are retiring very soon and almost nothing is being passed on to the new generation.
I can show you a week of private practice sessions of Alan Shearer and Wayne Rooney, just passing on something to the lad. If Hassan Mubiru and Co can have the passion to pass on something little to the current strikers, then we can have progress.
Well, it was nice chatting. Are there any final words of advice for those that have been inspired and might want to follow in your footsteps?
Oh sure, a soccer coach can only give you as much, you have to do much more on your own. Hard work pays off and I am a living example. Straight from the highlands of Kabale, to St Mary's Kitende, to SC Villa and now enroute to Germany is nothing but a road to glory on 'bare feet'. Hard work does pay off. Stay in school and be patient because when your time comes you will need to be ready for the challenges.
On last thing I have to say is do not waste time. If soccer is not your thing, move on because at the end of the day, it does not matter who you were or who you wanted to be. What matters is who you are now.
Thank you all.