KoiKoi is an initiative by Kafunda Kreative started in 2015 which aims to harness the power of social media by utilizing a variety of mediums like photography, film, written word and music to bring to the world stage stories about Uganda told from the perspective of Ugandan artists, while creating fresh exciting content about Uganda.
For a long time, I've been nursing serious FOMO to go for one of their trips. Every time they do one, social media is filled with images, gorgeous images if I may add, from that trip. This only serves to make the FOMO more intense. But for timing and financial reasons, I've been unable to go for any of them, until the most recent one which happened on the weekend of July 7 – July 9, 2017.
When the poster for this one was released on social media, I happened to have the adequate amount on my MM. I'd been forewarned that the slots fill up very fast so those that hesitate, masturbate. There was no way I was going to sleep on jobo so I sent my dime faster faster and secured a place. I was finally going to break my KoiKoi virginity and leave the masturbating to the slow ones. Yay me!
The only challenge now was to make sure I didn't have any other plans lined up for that weekend. But, being the FOMO ninja I am, that's close to impossible. Off the top of my head, I had two weddings taking place that weekend and a friend's birthday party. There was also the A Ka Dope weekend which I was supposed to attend as part of the Writivism Festival team which was having a soft launch there. So, yeah, plenty of action in one weekend. But breaking the KoiKoi virginity was the priority.
The Friday we were supposed to set off arrived and Satan started making his enemy of progress moves. One of my gigs wanted me to work through the weekend to resolve a burning issue. But I was not to be deterred. I made a concession to work Friday and miss the KoiKoi bus to our first stop. I'd take a taxi later and catch up with them there. Fair enough, no? I informed the KoiKoi organizers and focused on doing as much as possible so significant progress would have been made by evening. Come 6 pm, I run out of the office and made a beeline for the new taxi park to find a Masindi taxi that would take me to the Zziwa Rhino Sanctuary where we were sleeping that night. I was the second last person to enter the taxi and two minutes later, it was full. This was going swell!
Allow me to give KCCA a side eye at this point for the way they built the new park. The parking lanes and tarmacked surface are appreciated but there is a way they sulad step when it came to the exit. All the previous times I've have taken a taxi from there, we've taken, give or take, 30 minutes just to leave the park. That's way too much time wasted. They should go back to the drawing board and revise that part.
Anyway, we finally made it out and joined the Kampala Friday evening jam. The taxi driver stayed true to stereotype and used all the panyas known to man, animal, and ghosts to get us out of the jam, but it still took us another hour or so just to hit the clear highway.My FOMO was so high I decided to live tweet the entire trip.
Better late than never… #KoikoiNW, here I come!! pic.twitter.com/ZZmAz7n1yy

— Badidity! (@niwaroll) July 7, 2017
As the end of jam approached, I called the organizers to ask them where I should jump out from to branch off to the sanctuary. From this phone call, I established that they were still at the meeting point waiting on a few late individuals before they could take off. Yiyi, nga they hadn't informed me that there was a second vehicle for late chaps so I could save my bu dimes that I was now spending on the taxi. That was my interpretation anyway. Little did I know that things had gone more awry than that.
But one thing I know about travel, especially with big groups, things rarely go according to plan. You are better off throwing expectations out of the nearest window and going with the flow if you are to maximise enjoyment. So, I proceeded with my taxi. I would find the group that had set off first there and catch up with them on the festivities while my fellow latecomers followed behind me.
My neighbor in the taxi overheard me talking about the sanctuary over the phone and informed me he was going in the same direction so we'd jump out together. Turns out he was a Uganda Wildlife Authority ranger attached to the sanctuary. Well, what do you know! By the time we reached the town, I pretty much knew whatever I needed to know about the place plus his entire life history, dreams and aspirations as a bonus. Conversations with strangers are the best.
When we disembarked, he handed me over to Daudi, his colleague who side hustles as a boda guy, to take me to the sanctuary gate. Upon reaching the gate, I was reliably informed that no first round of KoiKoi people was are at the sanctuary yet.
Passenger friend hooked me up with Daudi, his colleague that side hustles as a boda. I've arrived, but ahead the rest of #KoiKoiNW crew 🙁 pic.twitter.com/ChVDTdkJrf

— Badidity! (@niwaroll) July 7, 2017
Yiyi!
I called organizing team and was informed that everyone had been delayed and they were now all coming at once. From their current location, Luwero, they had about 2 hours before they reached the sanctuary. It was 9.30 pm. Instead of staying at the gate, I decided to go back to the stage town and check put the nightlife while I waited for the rest of the crew to arrive.
The main action in the town was happening at two pool tables where chaps were playing for money. One was the standard pool you find in every bar around Kampala, and the other was a different type that had numbered multicolored balls. I chose the second one so I could learn something new. The counting system played me for a bit and by the time I'd understood enough to attempt a game, the nyabo that owned the table was shutting down for the night. Bore. So I crossed over to the normal pool side. Before my spot in the queue arrived, I checked my phone and realized it was a few minutes to 12. Where were these guys? I called a one Jjemba who informed me that they'd reached the town and branched off to the sanctuary without me.
Waiting for the rest of the crew ku gate is dull. Decided to go back to the ka stage and see the nightlife. The pool played here is strange pic.twitter.com/k0ipUeLplK

— Badidity! (@niwaroll) July 7, 2017
Yiyi!
Fortunately, there was another group that was behind them in a Rav4 that should be reaching the stage soon so I should position myself at the branch off point so they wouldn't miss me. As he was telling me all this, I noticed the Rav4 parked at the branch off point. You should have seen me running towards them. I have to thank the urine god's coz they'd stopped for a roadside leaking break otherwise I'd have been left behind.
We finally made it to the sanctuary where they'd been waiting for us for some time. We were warmly welcomed, shown to our rooms while supper was warmed up. Supper was the bizknees meanwhile. Whoever prepared that pork and chicken need to have their term and age limits removed, with or without parliament's approval.
And finally, supper is served. Gosh, the Apocalypse in my stomach was an intense twisted height!! *sheds tears pic.twitter.com/RPORyeCx7N

— Badidity! (@niwaroll) July 7, 2017
Next on the agenda was the campfire which was in the camping grounds that were a few meters from the dining area. As we approached the last corner to the campfire, we saw the group that was ahead of us doing a rapid walk back in our direction. The ranger who was with us warruped and in panicked child-like voices, they assured us that there was a rhino just there chilling in our path. Ho!! I don't even know how we managed to stay calm. The U-turns we made would have made Usher glow with pride (& itch with herpiness? Heh). But because the determination to make the most of the night was that serious, we used a different route that allowed us to pass behind the rhino and get to the promised campfire land. Cue lit conversations that I don't remember. After sufficiently irritating the campers with our wololo, we retired to our rooms.
The kitchen people maintained their excellent form via breakfast with a scrumptious serving of Rolex. I mean, even! After taking our last meal, in case the rhinos run amok and trampled on us all, we went for the tour briefing. The lady that runs the sanctuary gave us the origins story of the place, the sad history of rhinos in Uganda, which were actually extinct at one point, and then handed us over to the guides. I'll not mention the drone incident coz apparently those bu guys are still largely illegal and I don't want to get the owner, Arnold, into further problems with national security by revealing his identity.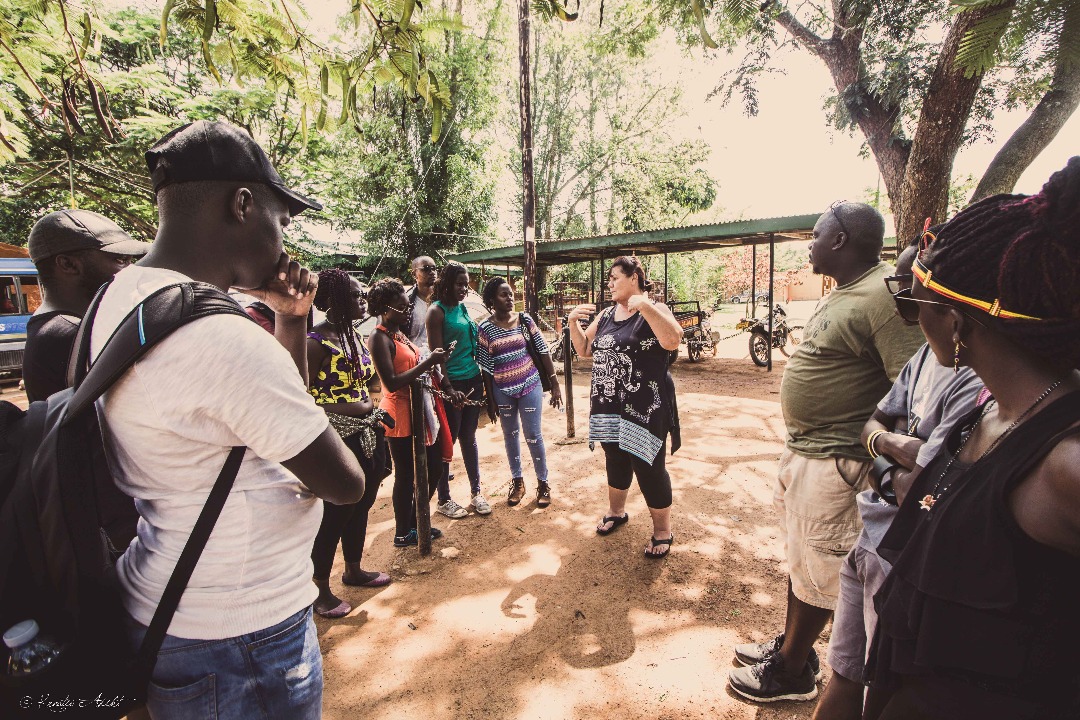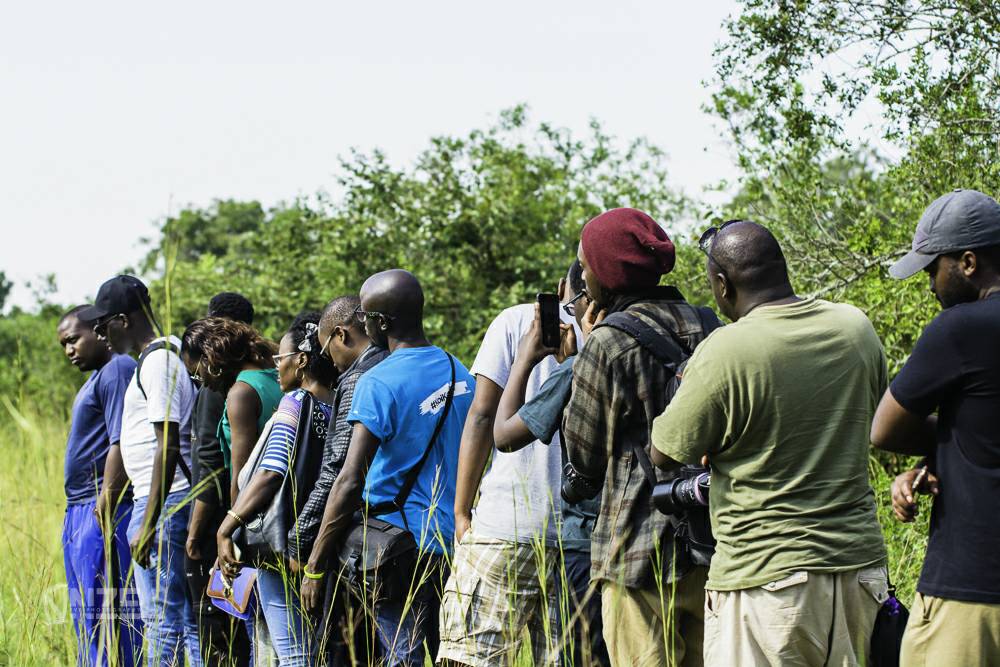 Anyway, we set off to our deaths in two teams of 15, because a rhino can kill only so many people in one go. The guides also told us to arrange ourselves in single file for easy killing by the rhinos. We were basically sacrifices to the angry beasts that still held a grudge with us the greedy humans killing them for their horns. Wabula us humans and the things we do for horn. But I lie. Rhinos are actually gentle beasts that subscribe to the mind your own business policy. You don't mess with them, they won't mess whichu. Even then, they give you several warnings before charging at you and violently ending inserting their horn into you. They have also have no issues with you checking them out and taking pictures as they slay, their version of it anyway, which is basically nonstop eating, as long as you don't get too close, especially if they have young ones.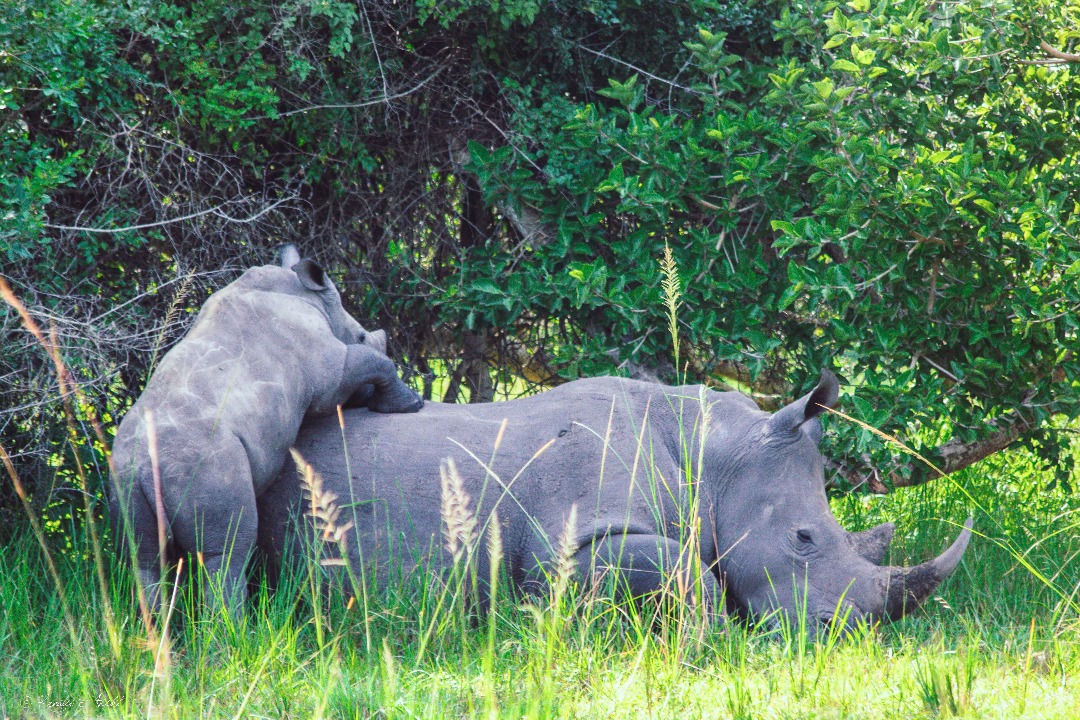 We saw a couple of them and managed to capture some cool photos before they signed out for the day. Yeah, rhinos are night creatures. Animals after my own soul. We also inspected their toilets. Rhinos are by nature toilet trained and their communal toilet has extra purposes than just a dumping ground for the body's refuse because that's also where the males determine which females are ready for fertilization by smelling their shit. You know what, I take back the part where I said they are animals after my own soul.
After the tour, we went back to the sanctuary where the kitchen department confused our taste buds with even more great food. But before that, we had a look at the other animals that call the sanctuary their home. These include two healthy dogs, some shy parrots that speak whistle, a warthog that lives with two cobs and probably has identity issues. At least the rest have another of their kind for comparison. It's just solo and I wonder what thoughts run through its mind when sees its reflection in the mirror, or clear water. It's going to have a massive existential crisis when it's released into the wild again.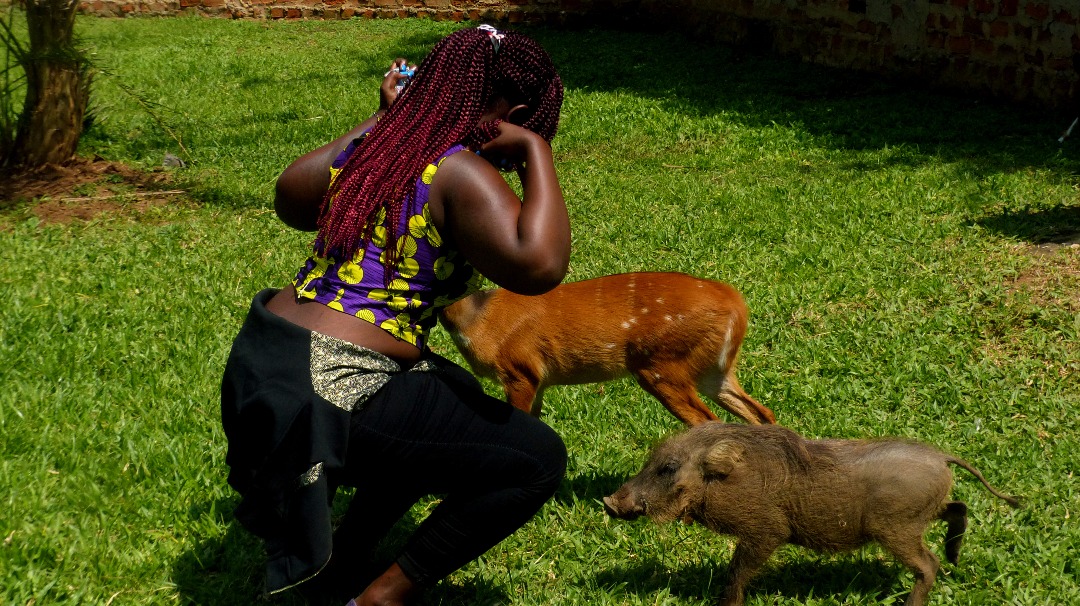 Next on the agenda was to continue our journey to Murchison falls NP where part 2 of the trip was happening. We were supposed to check out the waterfalls before going to the place where we'd be putting up for the night, but time was not on our side so we went straight to the residence. Straight is a stretch (I'm not sure, but I think I did something there) considering how much car drama we had.
The problems began when we were rushing to get the last ferry across river Nile and avoid sleeping in the park. As our driver sped along, we started hearing weird noises from outside and had to stop to investigate. The results of the investigation were that tools needed to be brought out and repairs done around the bus wheels. Thankfully, they were not complicated repairs and in a few minutes, the driver and his turn boy had us back on the road and we managed to make it to the ferry in time.
We used our waiting time there to strike some poses, do some yoga and check out some hippos that were having a swim about. I even managed to acquire myself a bae when we were taking pictures at the giant globe. The bae culture is strong within KoiKoi. If you go for one of those trips and come back without a bae, you are doing something wrong (Hi, Jjemba).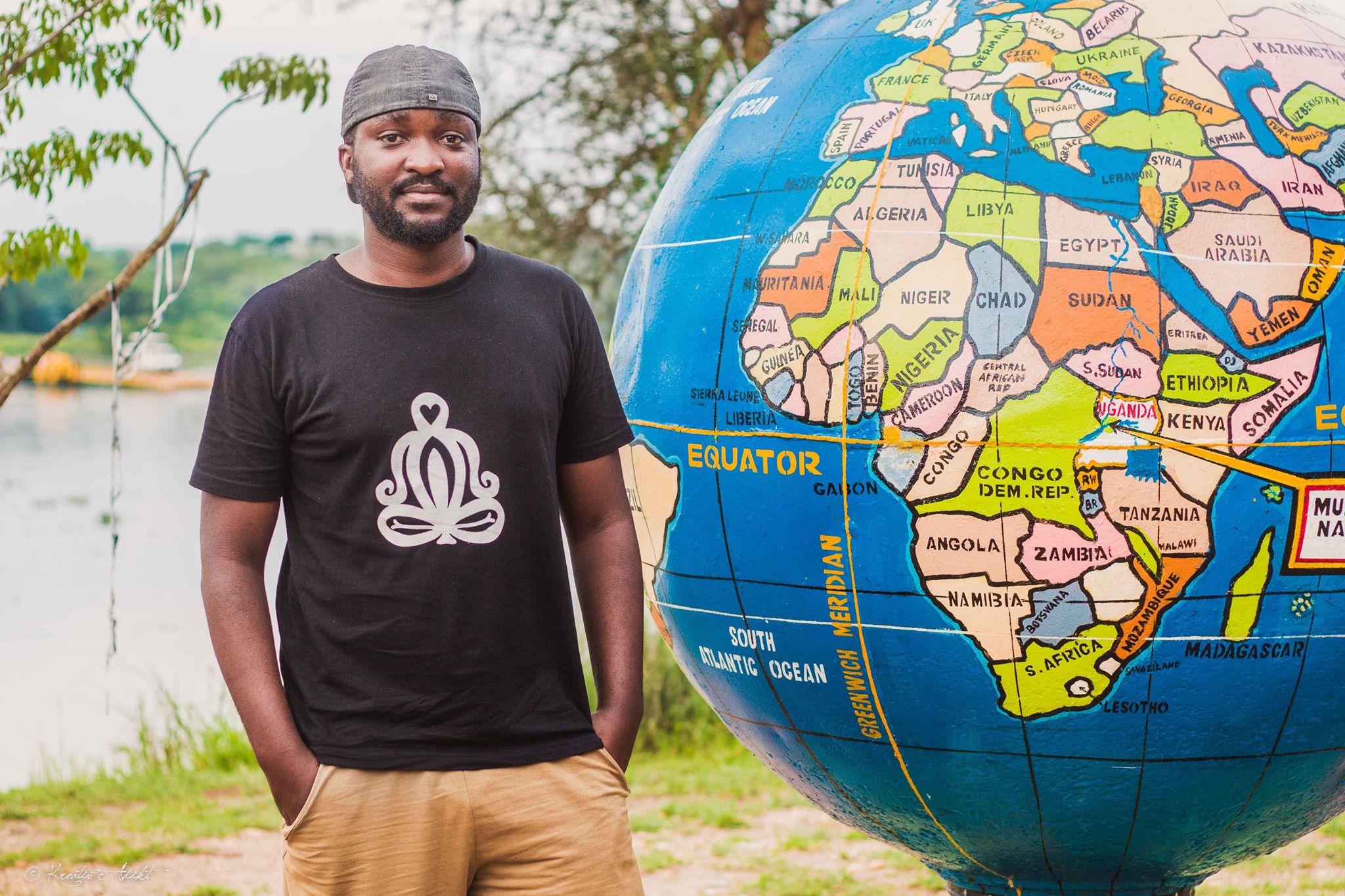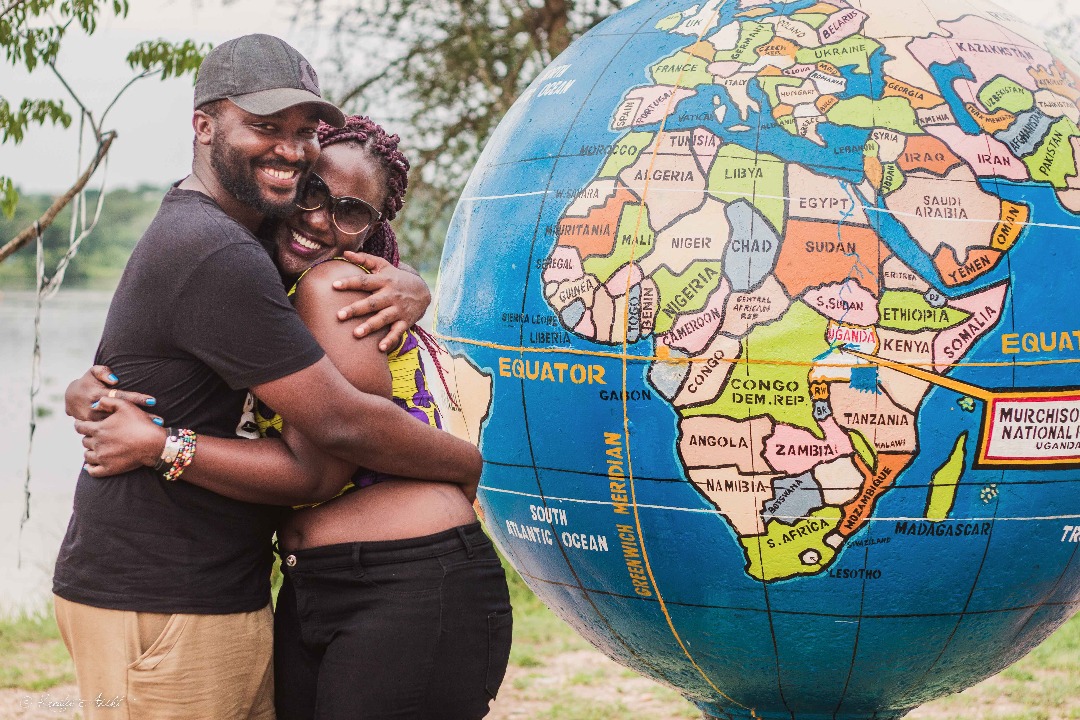 Our relief was short-lived coz the next bout of car trouble happened shortly after when we passed the turn to our lodging and had to make a U-turn. Mid U-turn, the coaster started being unsteady. It basically refused to start bulungi and stay on. So, there we are positioned across the road, blocking traffic from both ends in the middle of a national park. But what to do, we got out and started pushing. After getting it to start, we drove off, turned to the road going to our hotel and embarked on the last mile. The coasters issue was that the first two gears were not being cooperative so the driver was driving it in gear 3 and above. This is on a narrow dirt road with huge potholes.
I happened to be seated in front where I watched the driver sweating it out on this mean feat. The way my butt cheeks were clenched tight, one would have thought I was trying to seal them permanently. Despite my admirable butt clenching skills, the vehicle stalled on us again. This time, the driver had to go under and tinker for a bit before we could attempt starting it again. All we could think about was how exposed we were in the middle of a national park.
People started calling their loved ones to tell them how much they valued them, just in case. I mean, that's what one would have expected, but instead, pips were just goofing around. Such a chill crowd.  When it was finally ready for pushing to set off, it was for doing a running push where you jump in as it moves after it's started. No stopping coz of the gear 3 thing. After a few false starts, we were finally on way for the last lap.
We collectively clenched our butt cheeks even tighter and cheered the driver on as he pulled out every trick he had to make sure we arrived. And arrive we did with a lot of fanfare and significantly smaller butt holes coz they failed to fully unclench. At least that's what I went through. I'm just going to go ahead and assume everyone was experiencing the same.
Safely at our hotel, we got our rooms, showered and gathered for supper. As we ate supper, the hotel staff treated us to some traditional dances from the region. Some of the lucky koikoi-ists even got husbands and wives in the mix. We partied late into the night. Luckily, there were no animals walking around randomly to give us a fright.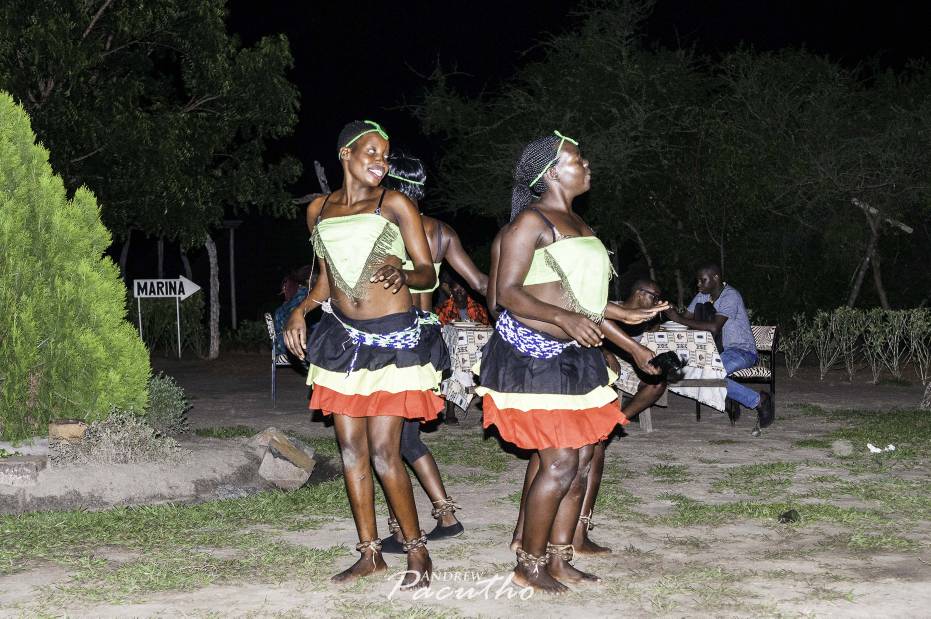 Following day, we did the Murchison game drive where we saw a variety of elegant creatures like the giraffe (which I consider one of the coolest animals ever because everything it does seems to be in slow mo, especially when it runs) cobs, and a Hartebeest, which has a really short attention span. Of it'll be fleeing from a lion and then stop and resume eating grass as if nothing has happened. Nemo has nothing on this guy. Thank God it doesn't have to go to class.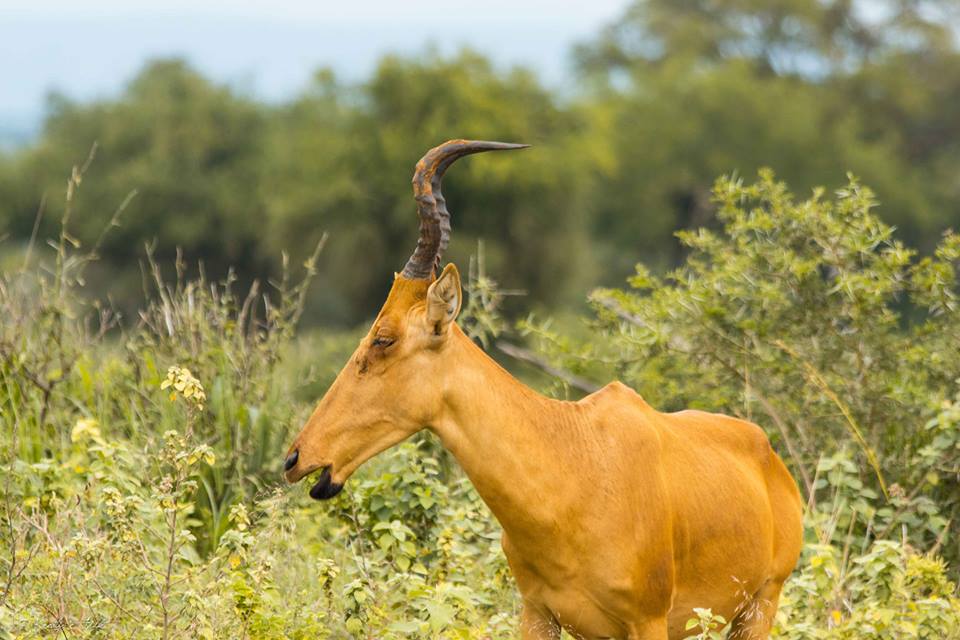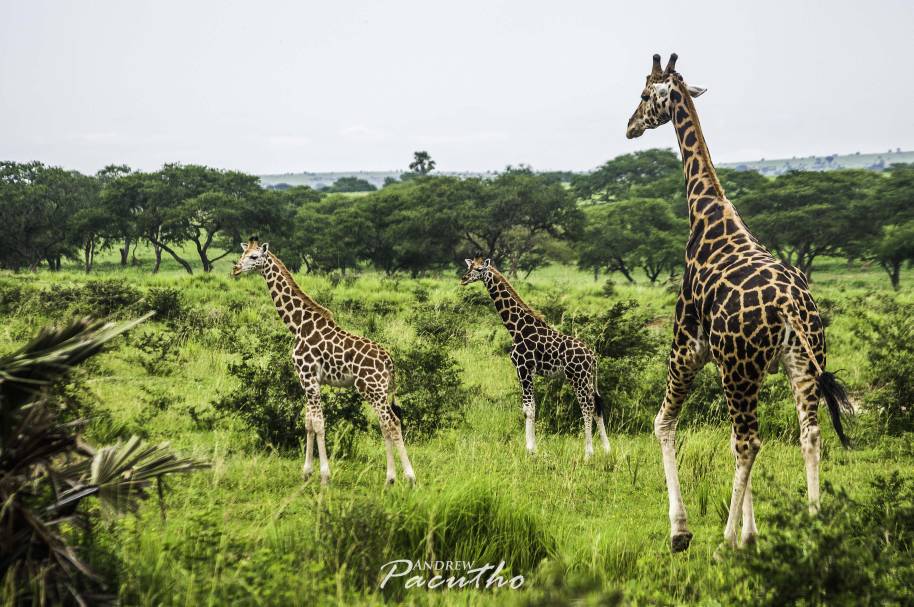 You must be wondering how we managed to do this with our injured coaster. I'll tell you. Its main driver traveled during the night and kanikad it while we merry made. Such dedication. It was purring like a well-fed cat during the game drive. And speaking of cats, we did see a bit of a lion, which is, like, the main attraction. I say a bit coz it was taking an afternoon siesta in some bushes by the roadside and couldn't be bothered by the distance we'd drove just to see it, so we had to do with the part of it we could see through the bush.
When we were done with that, we went back to our hotel where we had lunch accompanied by some more lit conversations. Conversations were mainly about the near death experience we'd had on the journey back. After seeing a lone elephant close to the road, we asked the coaster driver to stop so we could take more jeras-inducing photos. The elephant paused it's feeding to watch us and after a few seconds, decided we were an irritating distraction. It took one passive-aggressive step towards us and we developed super powers. One moment I'm there exposing my dentals and the next everyone is making a mad dash for the bus. By the time I turned to find out what was going on, because I'm one of those idiots who find it wise to investigate the problem when everyone else is obviously scattering for their lives, the elephant had lost interest in us and gone back to consuming grass by the trunk full. I think the conversations and the drama, due to things not going according to plan, are what make these trips so memorable.
After lunch, we went to see some hot springs that were, for lack of a better word, meh. From what we'd been told, I was expecting to see hot water gushing out of the ground with a cloud of steam in the air. What we got were scattered instances of lukewarm water. Ah. Bore.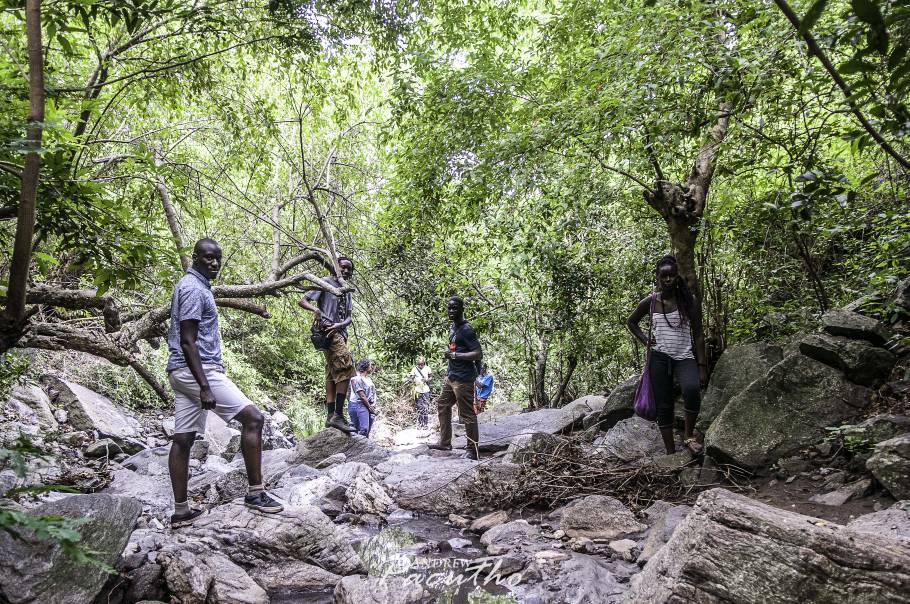 From there, we made our way back to Kampala where we arrived at about 1 am, tired, exhausted and with Monday work to look forward to in a few hours' time. I was pretty much in zombie mode the whole of that day.
All in all, fantastic trip. Affordable, great company, marvelous food, incredible sights, lit conversations and a bunch of memories to last me till the end of the year. I can't wait for the next one. To the team at Kafunda Kreatives that put this together, please never stop the awesome work you are doing. To Shell and Airtel, the generous sponsors of the KoiKoi trips, may you make profits for days and thank you for supporting such a relevant initiative.