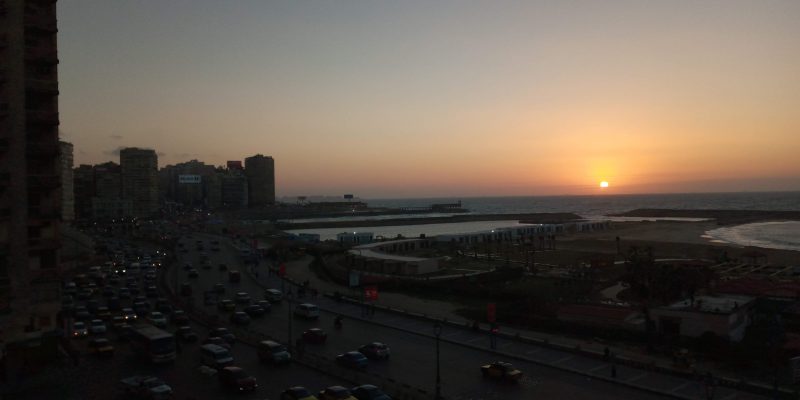 If you are crossing from Cape Town to Cairo, it makes sense that you properly complete the expedition by touching the water that borders both corners of the African continent. The Northern point for this is Alexandria City in Egypt which is slightly more than 200km from Cairo.
Seeing as I joined The Great African Caravan from Uganda, my version of exploration was following the River Nile from the source in Jinja to the point where it pours into the Mediterranean Sea. It branches out into several tributaries forming the Nile Basin as it approaches sea so there are several points of entry. One of these places is still Alexandria.
I was going to be the first person to fly out of Cairo, Egypt, and the Caravan and, as such, didn't have the luxury of time like everyone else so I planned a solo expedition to Alexandria the day after the pyramid visit. The plan had been to spend the whole day there so I'd have time to, among other things, visit the spot where one of the Nile tributaries enters the sea but circumstances left me with half a day to do this.
I ended up catching the 3 pm train there (Cairo was my first time on a train BTW. RVR had survived me so far in Uganda) and embarked on the 2 hour journey to Alexandria. I got into conversation with a young gentleman who could speak English and we spent the whole journey chatting. Me regaling him with tales of the caravan and Uganda and him giving me comparative insights into the Egyptian social economic scene. This was probably the longest conversation I had with an Egyptian during my time there.
Here's an interesting conversation that happened.
An elderly man pops out of the cabin and joins us in the 'corridor' here we were standing. He pulls out a cigarette and offers each of us one from the pack. I think smoking is part of the National culture here because I kept on getting offered cigarettes everywhere. Sherif, my train friend says no in Arabic and I say the usual English one, no please.
Old dude turns to Sherif and, I'm assuming, asks him where I am from because Sheriff responds with, Uganda.
Old dude looks at me and exclaims, Idi Amin!
Internally I'm like, Cummon now, not this right now right here. This is the first time I'd heard this dreaded response on this trip. So close to the end. Externally I gave a resigned sigh and said, Yes, Idi Amin!
The old man looked at me the way kids look at candy. He said things excitedly to Sherif who didn't seem to approve.
What did he say, I asked Sherif.
Sheriff – He wants to know if it's true that Idi Amin and Ugandans eat people?
Me – Maybe.
Sheriff translated. Old dudes eyes widened and he took a step back, as if in fear.
Sherif and I laughed. Dude had drama.
He stepped forward with bravado and said Arabic things to Sherif who again didn't look like he approved.
When translated, he was informing me that he was ISIS and was going to bomb the train.
I replied – maybe I'll eat you first – and gave him the once over.
He took some more steps back, mock shook his finger at me and walked back into the cabin. We burst out into laughter as he came back out to smoke his cigarette while shaking his head.
We reached Alexandria at about 5.30 and, if I intended to catch the last train at 8.30 pm back to Cairo, I had only two hours to take in as much of the place. Going inland to the Nile tributary entry point was out of the question. After examining the Alexandria map from the train station, Sherif advised me to check out Stanley bay and it's environs to get a small small sample of the place in the limited time I had. So that's what I did.
His Uber dropped me at the San Stefano Grand Plaza where I took the selfie below, so people believe I was actually there and didn't use internet pictures, and then I started walking along the beach back to the train station.
I stopped at one spot to get my hands wet with the sea water but ended up with wet shoes instead because the wave was too enthusiastic to welcome me to the North tip of the Nile. It's winter there so the water is cold and people don't swim in the sea otherwise I would thrown myself in there with vim (learnt that word recently so expect me to use it at every opportunity till it's tired.)
To allow my shoes time to cool off, I sat in a nearby cafe, smoked a pot of shisha, as is a time honoured evening tradition in most of this area code, and took a cup of mint tea with too much sugar as I listened to the Arabic playlist of some girls that were seated next to me and controlling the music in the bar.
I then crossed the Stanley bridge and got a cab back to the station. I was running late and my plan of using uber boda had to be cancelled coz my phone was low on battery.
I had used an uber boda in the morning to get to an early morning meeting and I can confidently say they are more reckless than Uganda bodas. Better dressed for sure but much more dangerous. They don't even pretend with helmets. It's for going live. What helped is the bikes weren't that many, which reduces the chances of boda on boda violence, and they seem to have a hooting understanding with vehicle drivers who give them way unlike Uganda were it's an ongoing civil war.
Anyway, I gave the cab guy wrong directions and he dropped me at the tram station which shared the same name as the train station. I then had to run the rust of the distance through market streets and building to the train station while looking at my phone map. So touristy and yay me for my first running for the train experience. I managed to catch the last train just in time and snored in exhaustion and stunk up the cabin with my wet shoes all the way back to Cairo.
The highlight of my return to Cairo was my Uber which run out of fuel midway the journey home and we, the driver and I, had to push his cab in the middle of Cairo evening traffic for 2km to the next fuel station. I didn't have to but it seemed like the right thing to do as an aspiring adventurer. Face adversity instead of running for it.
For my efforts, my bill was twice the original app estimate.
Thank you, universe.