I joined the couch surfing (CS) website a while back after being sent there by one of the travel blogs I dedicatedly read. A the time, I thought it was interesting concept and promptly added it on my bucket list. Basically, you have people all-over the world opening their homes up to strangers who are looking for a friend in a new country or area. I am sure some people literally offer their couches but from the hour or so I spent reading other peoples stories and experiences, I got the feeling most of the hosts have an extra room they do not mind offering up for a few days to a travelling stranger. I wont go into the nitty-gritty of how it works because I am here to share my own experience not educate. You can always visit the Couch Surfing website if you need more information.
So, I was headed to Jinja for the annual Agricultural Trade Show to promote my Agriculture Magazine, Agency AgriBizz. Normally the best course of action is to ask people who have been there or originate from there to give you some recommendations on nice comfy affordable places to stay. While I was asking around, I decided to see if there where any willing hosts from Jinja on the CS website and maybe get the chance to cross that off my bucket list. 6 CS'ers seemed legit enough so I sent a request to all of them to see if they could host me. Upon reaching Jinja, I checked and found only James Gyagenda had replied to say he would be glad to host me for the duration of my stay. I proceeded to call him on the number he left and he gave me directions to his place.
Now, CS'ing has its risks and I am sure there have been a few horror stories of people taking advantage of the system to commit crimes. One of the ways the creators put in place for reducing on the probability of users ending up in the homes, or hosting, ill intentioned people is recommendations. The more recommendations you have from people who have hosted you or you have hosted, the easier it is for people to trust you as a legit person.
Considering this was my first activity on CS and my profile was devoid of any recommendations, I was not exactly a potentially great guest. Factor in the fact that this was also James' first time to host anyone and a lot of trust issues were bound to arise. If it was any help, James had posted a bunch of photos of his place and some links to his noble projects while I would like to assume the profile picture of me being goofy with my nephew must have been reassuring for him. His place just happens to be a few minutes from Jinja town and a bit off the main road so things weren't exactly looking rosy.
I reached Jinja in the morning, spent the day at the agriculture show and finally set off for James' when the sun was setting. I had my laptop, a professional camera, my phone and wallet containing all the money I had budgeted for that week. By the time I got off the bus, it was dark an I was utterly exhausted. I figure any sensible human at this would have abandoned ship at this point, headed to the nearest hotel and forgotten about the entire venture all together. But my overdeveloped sense of adventure instead led me to call up James and tell him to find me at the stage.
The whole situation reminded me of a line I heard from one of my favourite TED talks, "Is this how stupid people die?" You know, like those chaps in horror movies that always go towards danger instead of fleeing like an ostrich in the opposite direction. I just hope my mum never gets to read this. She hasn't spanked me in a while but she would probably attempt to knock some sense into my head if she knew I did something like this.
Anyway, since I am writing this, we can safely conclude nothing bad happened. James and his family were very welcoming and they were not put off by my unshaven face. They showed me my comfy self contained room once we were done with the introductions. James is an IT man, social worker and a family man with strong Christian values. Him and his wife Lillian are recent parents of a baby girl. The other members of the household where Bridget, the house help, and James' cousin, Susan, who was  helping him expand his briquettes business. They made me feel at home and I felt like I was part of the family from day one and really warmed me up to the idea of couch surfing.
One of the reasons why I was keen to join CS is I like stories about other peoples lives. To me, listening to other people tell you about their experiences makes me feel like I am reliving it and gives me fresh perspective on how other people view this world. James, for-example, was born to an absentee father and a mother who couldn't make enough money to to take him through school. He was brought up in an orphanage and educated by the kindness of others, especially Patrick J. Cowles who sponsored his A'level education. James currently works with Patrick and helps oversee the activities of his organisation, Patrick's Children Without Sponsors.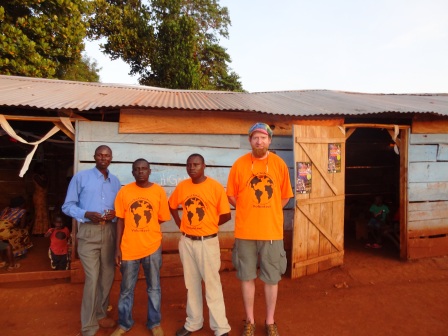 Patrick's Children without Sponsors –Uganda was created and registered as a non–profit making community based  organization in 2012  in Bugembe Jinja district  to clearly demonstrate the love which children, widows, and orphans need no matter what avenue is
taken. They partner with other already established and registered organizations and community based organizations (CBO) and local
government taking care of orphans and widows. With an allocated sum, they help those children indirectly by purchasing items needed in their daily lives such as purchasing food, scholastics, medical care and baby formula. It is James' role to make sure they are actually attending school and making the best of these opportunities they are given.
The other project they have under the organisation is briquette making. Briquettes are a somewhat recent technology in Uganda that intend to phase out the use of charcoal as a cooking aid in kitchens all over the world. I could go in depth about this but those who want to find out more should have a look at this link on their website. They empower women in the community by teaching them the skills necessary to make briquettes. The organisation also has boda bodas that provide revenue and cater for day to day expenses.
I also managed to meet Hakim Kirigwa who is a local leader in James' neighbourhood. He is the one who introduced James to the CS community. Hakim is one of the people I had applied to on CS but he told me his internet had been off so he was unable to reply to my my request. Hakim, unlike James, has managed to host several CS people over the years and his profile is full of people from different parts of the world praising his hosting skills and the projects he is working on. Hakim is a professional social worker and humanitarian who runs his own organisation, SkillsPlus Uganda. They have a school, medical centre and a computer training centre empowering young Ugandans towards a better future.
All in all, it was a pleasant experience and I am glad to have made the acquaintance of , James, his family and the people in his community. Even though I am generally clumsy person, I left James' house intact, I think. Unfortunately, I might have passed on my cold flu to James. My only hope is that it didn't get to the baby.I  recommend Couch Surfing for those who consider themselves flexible and love to meet new people. Just try and be more cautious than I was. I will end this with a quote from the CS website:
"You have friends all over the world, you just haven't met them yet."